The Poseidon Fitness Series began in 2019 as a conversation over pints after a sweaty Saturday workout in CrossFit Wicklow. We wanted to create competition experiences from a competitors perspective, drawing on experience as scaled, intermediate and RX competitors. The importance of timing, organisation and professionalism, as well as good craic, were at the forefront when planning our first event, The Poseidon Games in June 2019.
The first Poseidon Games took place in our home of CrossFit Wicklow, Wicklow Strength and Fitness. The format of The Poseidon Games is a same-sex partner competition allowing athletes to compete alongside their training partner. We had over 120 teams from all over Ireland join together to compete, laugh and celebrate their training in our beginner and intermediate categories.
After the endorphins of our first weekend faded we began to plan and look to the year ahead. While travelling and competing is something a lot of gym-goers enjoy we appreciated there is a cohort who prefer to train in the comfort of their own gym. This kickstarted the idea of The Poseidon Tour, where we could bring the competition experience to individual gyms. The Poseidon Tour 2020 stopped off in HowlingHeart Fitness in Clonakilty Co.Cork, WildWay CrossFit in Moycullen Co.Galway, CrossFit Navitas in Dublin and wrapped up in CrossFit Wicklow. 
We launched tickets for The Poseidon Games 2020 that February but 2020 had different plans for itself. We postponed till September and put in place safety measure after safety measure to protect our athletes and crew but it was not to be. We are now looking forward to The Poseidon Games 2021 this August where we can gather and celebrate our community in person. We hope to bring you The Poseidon Tour, The Poseidon Games and The Poseidon Seminar series this Summer and We. Can't. Wait to see you there.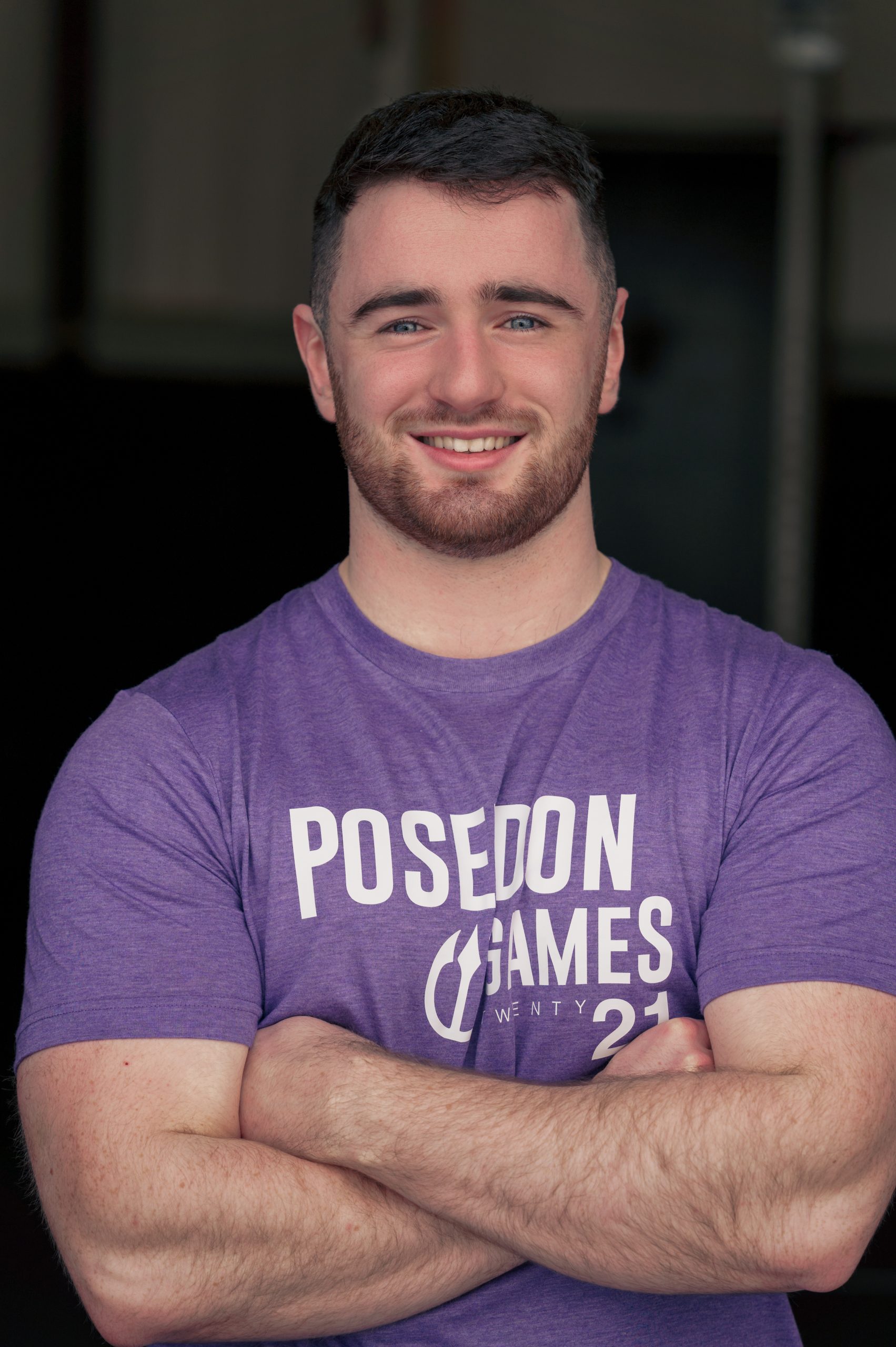 About Oisín
I found myself in CrossFit Wicklow aged 15 after falling off the bandwagon with other sports. I had a background in swimming and athletics which meant I enjoyed running workouts and was fairly awful at everything else. The addiction hit pretty quickly and I found myself spending as much time as possible in the gym, the cult member accusations came along quite quickly after that.
I began coaching and competing in 2017 and I'm still passionate about both. The atmosphere on the competition floor is electric and the idea of being able to recreate that feeling for other people stuck with me. In early 2019 Liam and I began talking about organising a competition together over a few pints and I decided that the idea was too good to forget about so wrote it down in the notes on my phone and The Poseidon Games was born.
The highlight of working on The Poseidon Fitness series has been experiencing how supportive the Irish CrossFit community is. After we had to postpone The Poseidon Games twice in 2020 we were met with messages of understanding and support each time. I can't wait to get back to organising events that cater for all levels of fitness and show-case Irish CrossFit at it's best.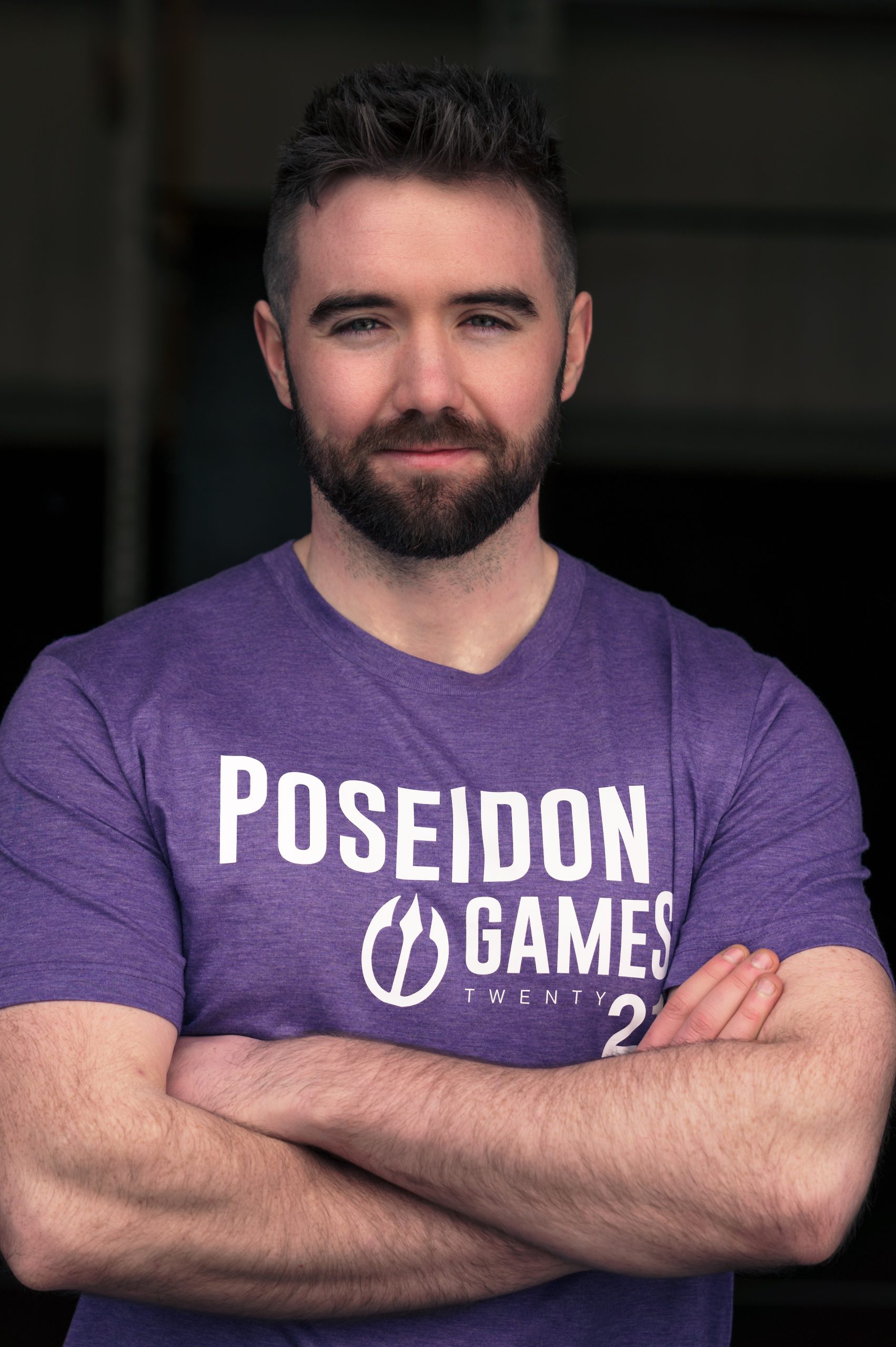 About Liam
I'm lucky enough to have seen the sport of CrossFit from multiple perspectives. I joined a gym hoping to lose a bit of weight but CrossFit lit in a spark in me that has become a life's passion over the ensuing years. Starting out as an athlete before becoming a coach and ultimately an affiliate owner at Wicklow Strength and Fitness with the mission to spread that spark to as many people as possible. By viewing The Poseidon Series from these different viewpoints, we are able to provide high quality events that will cater to all stakeholders within the Functional Fitness community.
Our showpiece event, The Poseidon Games was born to create a competition that was built from the athlete's perspective. To build the competition that we as CrossFit athletes would love to compete in! Coupling that with the desire to make a unique and fun experience for all of those in attendance led to the success of the inaugural Games in 2019. A success that we will build on in future events by remaining true to our core message of "Do it with a Smile".
As a coach and affiliate owner, The Poseidon Tour is something of a dream. It brings the competition to the individual gyms and allows for a unique and intimate event that we view as investing in the Grassroots side of the sport. It takes the fear away from making the leap to larger scale competitions like our own Poseidon Games. Passion for CrossFit is born in the gym and I am delighted to be able to help coaches and affiliate owners create and nurture that passion that binds us all as part of the Irish CrossFit community.